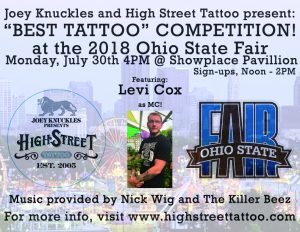 Joey Knuckles and High Street Tattoo proudly bring you our Fourth Annual, Ohio's Best Tattoo competition at the Ohio State Fair. Monday, July 30th,  located in the Showcase Pavilion. Registration begins at 12pm and the event runs from 4:00 pm-6:30pm.
Come join Emcee, Levi Cox and the crew of High Street Tattoo and feast your eyes upon the variety of  tattoos found amongst the crowds, listen to live music provided by Nick Wig and the Killer Beez and learn a little tattoo history all for you and your families' entertainment! You could win Ohio's Best Tattoo!
Event is free to enter.
Our panel of judges will judge tattoos based on:
Best Overall Male
Best Overall Female
Best Black and Grey
Best Traditional
Best Color
Best Large and Small Scale
Please remember the Ohio State Fair is a family event and tattoos will be checked upon registration (No nudity or "suggestive" tattoos, i.e. violent or gang related tattoos).
Preregistration begins today! Stop into the shop and register! Participants will receive a free gift (while supplies last) upon conclusion of the competition.
We look forward to seeing everybody there!